[USB-302] 2 Channel USB to RS232 Converter HuMANDATA LTD.
2 Channel USB RS232C Converter
Each channel is independently isolated.
Overview
 USB-302 is a 2 channel USB to RS232C converter that included circuitry with 2500VDC isolation.
Those 2 channels are isolated independently from USB side.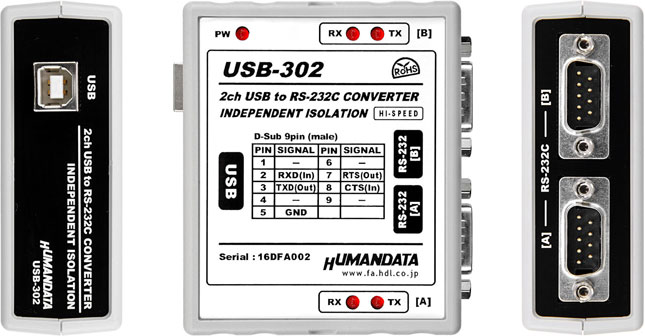 Features
Supports RS232
Each 2 channels are independent isolation
Supports custom baud rate
No external power supply is required
USB-302 is powered through a USB port (Bus-powered)
Housing material: Plastic
DIN rail, magnet, and screw mountable (Attachment is required)
Includes a USB cable (1.8m)
Non-use of 10 Restricted substances of RoHS directive
MADE IN JAPAN
Reference data

USB Compliance test
Eye pattern of upstream tests

Specification
Item
Description
Remarks
Model
USB-302
Power
DC 5V / Less than 300mA
Supplied through a USB port
Bus-powered
RS232C Port
2 Port
Input/Output Interface
RS232C
Use 4 signals (TXD, RXD, RTS, CTS)
ESD protection
HOST interface
USB 2.0 Compliant
(High Speed is supported)
USB 1.1 compatible
ESD protection
Isolation Method
Bus isolation
Independent Isolation
Isolation Protection
2500VDC
Designed value
Communication Method
Asynchronous Serial Communication
LSI
FT2232H
FTDI
Baud Rate
300 bps to 1 Mbps
Support custom baud rate
Data Bits
7 or 8 bit
Stop Bits
1 or 2 bit
Parity
Even, Odd, No-parity
FIFO RX Buffer Size
4096 Bytes
FIFO TX Buffer Size
4096 Bytes
Supports OS
Windows 10/8.1/8/7/Vista/XP
Operating Ambient Temp. (*1)
-20 to 60 °C (-4 to 140 °F)
No condensation permitted
Operating Ambient Humi.
30 to 85 %RH
No condensation permitted
Noise Tolerance
Not defined
Standard
Not defined
Weight
Approx. 100 [g]
Only main body
Dimensions
69 x 82.5 x 30 [mm]
(2.638" x 3.248" x 1.181")
Without projections
* Power saving function (suspend, standby, sleep and others) is not supported
(*1) The product is tested under 5 degrees wider range than designed specification.
RS232C Connector pinouts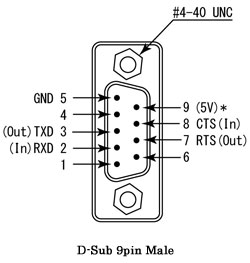 Pin No
Name
Direction
Notes
1
-
2
RXD
IN
3
TXD
OUT
4
-
5
GND
-
Signal GND
6
-
7
RTS
OUT
8
CTS
IN
9
(5V)
-
* reserved for
5V output
CASE
FG
-
Connect to GND
Package Contents
USB-302
USB cable 1.8m
Driver & Application CD
Documentation
Price and Optional Accessories
| Description | MODEL | Image | List Price (JPY) | Stock Status |
| --- | --- | --- | --- | --- |
| 2 Channel USB to RS232 Converter | USB-302 | | | |
| Attachment with clamping screw | PEN-003 | | | |
| Attachment for 35mm DIN rail | PEN-003-DIN | | | |
| Attachment with neodymium magnet | PEN-003-MG | | | |

---
[]