[LNX-204] LAN Multiplexer 4:1 HuMANDATA LTD.
[LNX-204] LAN Multiplexer 4:1
Enable to switch multi ports from a distant place via
Ethernet or an external contact point.
Permalink of this page:
Overview
LNX-204 is a LAN multiplexer to switch 4 channel LAN ports. LNX-204 can change the port by three ways: send simple command from PC via LAN, input control signal from an external contact point or change switches of the product body. This is very useful to switch external network to internal network, and to connect with the network only when required.
It can promote labor-saving for inspection process and auto-inspection system of LAN devices.
Second and subsequent images are CG models
Features
Switch Ethernet wires by multiplexer IC
no need to insert and pull out the cable
Switch a port from a distance via Ethernet and or an external contact point
Swich a port via a virtual COM port is also available by using our original application, LNX-VCP
Switch a port manually by changing switch of the product body
Because unconnected port is not connected, it's possible to use it as a simple firewall
Easy configuration by microSD

Easy

to restore

the setting data

at

the

time

of

replacement

Easy to send the setting data by e-mail
No restriction for IP address setting, out of the network segment
Easy to backup the setting data

Configuration via Ethernet is also available by using original setting tool
Power for the main body supports PoE, powered via LAN cable
switching port does not support PoE
AC adapter is included in the package
FG terminal is equipped
All LAN ports are protected from ESD
Non-use of 10 Restricted substances of RoHS directive
MADE IN JAPAN
Connection Examples
Change common port LAN or external network to LAN1-4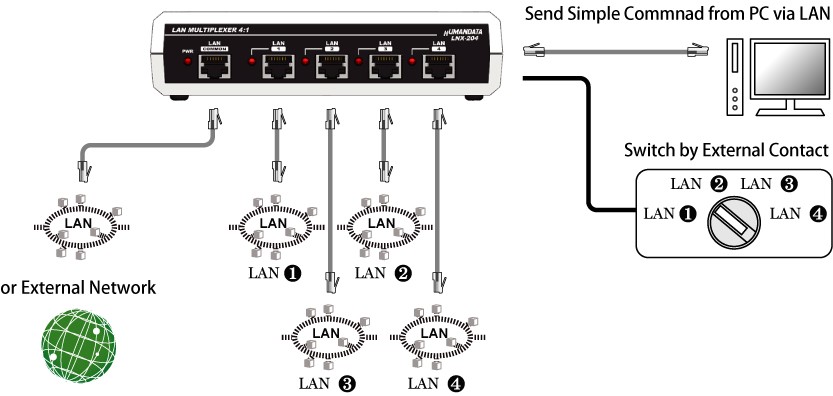 SPECIFICATION
Item
Description
Remarks
model
LNX-204
Power
5VDC, Supplied by AC adapter or LAN connector (PoE function)


PoE function supports both mode A and B

Current Consumption
Less than 300mA
Network Interface
IEEE802.3 (10Base-T)
IEEE802.3u (100Base-TX)
half-duplex / full-duplex (auto detected)
Common/Selecting Port
10/100/1000 Base-T
(*1)
LAN Connector
RJ45 x 6

ESD protection ±11KV


Protocol
TCP / UDP / Telnet
RS-232C Connector
D-Sub 9pin Male
(#4-40 UNC screws are mounted)
M2.6 screws are also attached for accessary
Setting Memory Card
microSD card
For save and restore the product setting
SPI mode
LED
Power LED
Connection LED x 4
System LED
micro SD card access LED
LINK Status LED (RJ45 Connector)
ACT Status LED (RJ45 Connector)
Operating Ambient

Temperature

-20 to 60 [°C] (-4 to 140 [°F])
No condensation permitted
Operating Ambient

Humidity

10 to 85 %RH
No condensation permitted
Storage Ambient

Temperature

-20 to 60 [°C] (-4 to 140 [°F])
No condensation permitted
Storage Ambient

Humidity

10 to 85 % RH
No condensation permitted
Weight
Approx. 250 [g]
Only main body
Dimensions
165 x 80.5 x 39 [mm]
(6.496" x 3.169" x 1.535")
Without projections
(*1) The operation of this product is confirmed with 10/100/100 BASE-T. But the product is inserted between LAN cables, speed reduction can be occurred. The communication speed is not guaranteed.
When the LAN cable is long, using giga bit corresponding switching hub may improve the speed reduction.
Pin Assignment of External Contact Connector
D-sub 9 pin male connector
#4-40 UNC screws are mounted by factory setting. You can change them to attached M2.6 screws.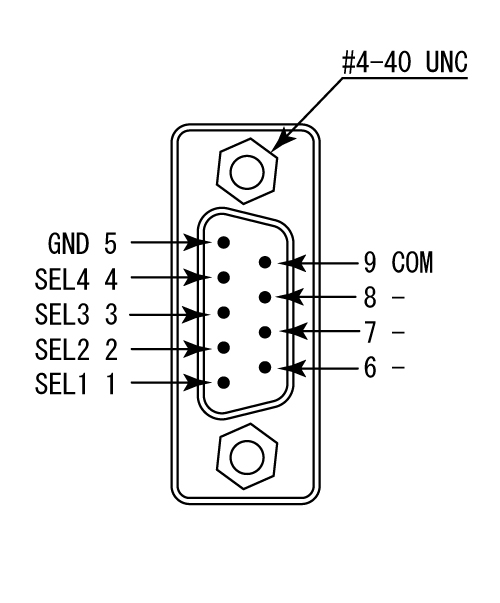 Pin No
Name
Direction
Remarks
1
SEL 1
IN
Select LAN1
2
SEL 2
IN
Select LAN2
3
SEL 3
IN
Select LAN3
4
SEL 4
IN
Select LAN4
5
GND
-
GND
6
NC
-
-
7
NC
-
-
8
NC
-
-
9
(COM)
-
Power Input
(option)
CASE
FG
-
Connect with
FG Terminal
LNX Setting Tool
 Using this application, you can easily to make a configuration data of the LNX series.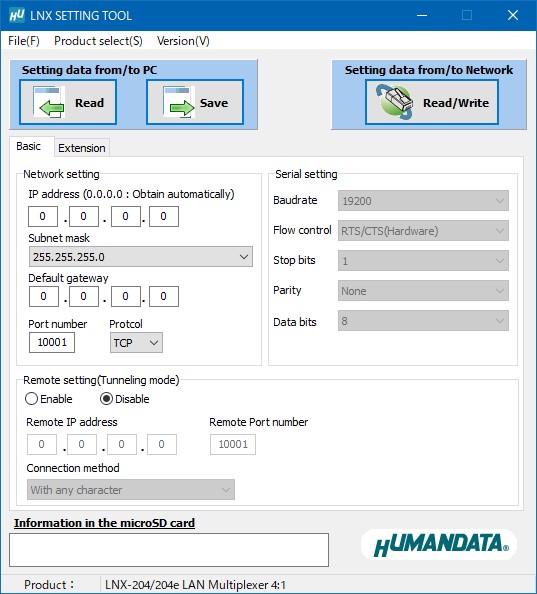 After saving the configuration data to the microSD card, please insert it to the product. Then the setting data, WR_DATA.TXT, will be read automatically when the product is powered on. At that time, the read data is backup in the microSD card as RD_DATA.TXT.
The setting data is stored in the product. No need to indsert the microSD card next time.
When replacing LNX series, just insert the same microSD card then you could restore the same setting.
When your PC is in the same segment as LNX series, you can also control the setting via ethernet.
PACKAGE CONTENTS
LNX-204
microSD card (with USB adapter)
AC adapter
Driver & Application CD
DOCUMENTATION
Price and Optional Accessories
| Description | MODEL | Image | List Price (JPY) | Stock Status |
| --- | --- | --- | --- | --- |
| LAN Multiplexer 4:1 | LNX-204 | | | |
| Attachment for vertical direction | ACC-027 | | | |
| Attachment for horizontal direction | ACC-028 | | | |
| Attachment for DIN rail type B | ACC-031 | | | |
| Neodymium magnet set | ACC-036 | | | |
RELATED PRODUCT
Ordering

---
[]