[USB-204]USB3.0 Isolator HuMANDATA LTD.
[USB-204] USB3.0 Isolator
Dedicated isolator for USB3.0 SuperSpeed
Permalink of this page:
Overview
USB-204 is a USB 3.0 SuperSpeed(5Gbps) compliant isolator which isolates between a USB host and a USB peripheral device with 3000VDC. With USB-204, it can be expected to eliminate ground loops that can cause measurement errors and equipment from surges, common-mode voltage, static discharge, magnetic fields, and radio frequency interference.There is no need to install any drivers. It works with every operating system such as Windows, Linux, Mac OS X.
*USB-204 was discontinued. Please consider USB-03G1 for a replacement.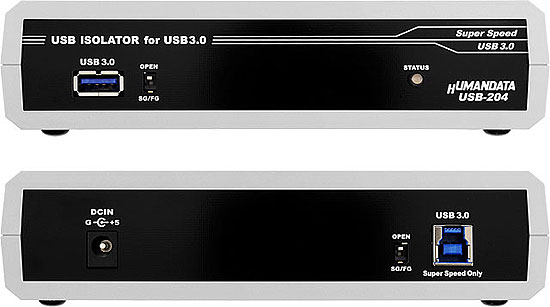 Features
USB host connector which is USB3.0 standard Type B female and have to be connected to a PC or other USB host device
USB target connector which is USB3.0 standard Type A female and have to be connected to a USB peripheral device
USB 3.0 SuperSpeed (5Gbps) compliant (Low, Full and Hi Speed are not supported)
OS-Independent (No drivers required)
USB-204 is powered through a USB port (Bus-powered) or an AC adapter (Self-powered)
DC-DC converter supply isolated voltage to a USB peripheral device from a USB host if no external power supply is present
3000VDC bus isolation

ESD and surge protection

Housing material: Plastic
DIN rail and screw mountable (Attachment is required)
Includes a USB 3.0 cable (1.0m)
Includes an AC adapter
Non-use of 6 Restricted substances of RoHS directive
MADE IN JAPAN
Specification
Item
Description
Remarks
Model
USB-204
Input Power
5VDC
Supplied through a USB port(Bus-powered) or AC adapter(Self-powered)
Recommend the use of an AC adapter for stably supply
An AC adapter supply to the host side.
Current Consumption
Less than 100 mA + current of the target device
Target device : 400mA max.
(Lower than the supply capacity of the host side)
HOST Interface
USB3.0 SuperSpeed
Low, Full and Hi Speed are not supported
Port Number
1 port
USB Connector(Host)
USB3.0 Standard Type B Female
ESD protection 
USB Connector(Target)
USB3.0 Standard Type A Female
Isolation Method
Bus isolation
Isolation Protection
3000VDC
Designed value
Support OS
OS-Independent (No drivers required)
LED
Power / Error x 1
Bi-color LED

Operating Ambient Temperature

5 to 60℃
No condensation permitted

Operating Ambient Humidity

30 to 85%RH
No condensation permitted

Storage Ambient Temperature

5 to 60℃
No condensation permitted
Storage

Ambient Humidity

30 to 85%RH
No condensation permitted
Noise Tolerance
Not defined
Transmission and other Standard
Not defined
Dimensions
165 x 80.5 x 39 [mm]
(6.496" x 3.169" x 1.535")
Without projections
Weight
Approx. 250 [g]
Only main body
Package Contents
USB-204
USB3.0 A-B cable
AC Adapter
Documentation

User's manual, Outline Drawing, etc
Price and Optional Accessories
Description
MODEL
Image
List Price (JPY)
Stock Status
USB3.0 Isolator
USB-204


[Discontinued]

Attachment for vertical direction

ACC-027
Attachment for horizontal direction

ACC-028
Attachment for DIN rail type B

ACC-031
Neodymium magnet set

ACC-036

---
[]