[USB-013 Rev3] USB RS232 Converter HuMANDATA LTD.
[USB-013] USB RS232 Converter MAX 1Mbps
Rev3
USB to RS232C Converter ISOLATED
CE,RoHS compliance.
Permalink of this page:
Overview
USB-013 is a USB to RS232C converter that isolated with 2500VDC between RS232C and a USB port. It supports High Speed baud rates of up to 1Mbps. This is designed around the high performance industry proven FTDI chipset. USB-013 is CE and RoHS compliance.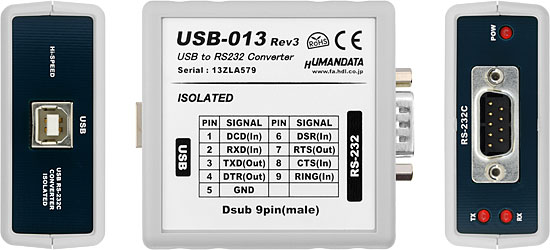 Features
Supports RS232C
2500VDC bus isolation
Baud rate up to 1Mbps
Supports custom baud rate
Auto transmit data control
Built-in USB-serial chip has auto transmit controller and the driver is activated when it transmit the data
No external power supply is required
USB-013 is powered through a USB port (Bus-powered)
Reliable industrial grade design

ESD and surge protection

Housing material: Plastic
DIN rail, magnet, and screw mountable (Attachment is required)
Includes a USB cable (1.8m)
RoHS and CE compliant
MADE IN JAPAN
Specification
Item
Description
Remarks
Model
USB-013
Input Power
5VDC
Supplied through a USB port(Bus-powered)
No external power supply required
Current Consumption
Less than 100 mA
I/O Interface
RS232C
ESD protection
HOST Interface
USB 2.0 compliant (Support Hi Speed)
USB 1.1 compatible
ESD protection
Baud Rate
300 bps to 1 Mbps
Support custom baud rate
Data Bits
7 or 8 bit
Stop Bits
1 or 2 bit
Parity
Even, Odd, No-parity
FIFO RX Buffer Size
1024 bytes
FIFO TX Buffer Size
1024 bytes
Isolation Method
Bus Isolation
Isolation Protection
2500VDC
Designed value
Processor
FT232H
FTDI
USB Driver
Virtual COM port driver
Support OS
Windows 10/8.1/8/7/Vista/XP
LED
POW: USB bus power
RX: Receive data
TX: Transmit data
USB Connector
Standard Type B Female
RS232C Connector
D-SUB 9pin Male (#4-40 UNC)

Operating Ambient Temperature

-20 to 60℃ (-4 to 140 [°F])
No condensation permitted

Operating Ambient Humidity

30 to 85%RH
No condensation permitted

Storage Ambient Temperature

-20 to 55℃ (-4 to 131 [°F])
No condensation permitted
Storage

Ambient Humidity

30 to 85%RH
No condensation permitted

CE Compliant

EMS:EN61000-6-2
- IEC61000-4-2 Electrostatic discharge requirements
- IEC61000-4-3 Radiated electromagnetic field requirements
- IEC61000-4-4 Electrical fast transient burst requirements
- IEC61000-4-5 Surge immunity test requirements
- IEC61000-4-6 Conducted radio frequency requirements EMI:EN61000-6-4
- CISPR11 Group 1 Class A Emissions


This product has applied the common standard for industrial environment EN61000-6-2 and EN61000-6-4

Weight
Approx. 90 [g]
Only main body
Dimensions
67 x 67 x 28 [mm]
(2.638" x 2.638" x 1.102")
Without projections
* Power saving function (suspend, standby, sleep and others) is not supported
RS232C Connector pinouts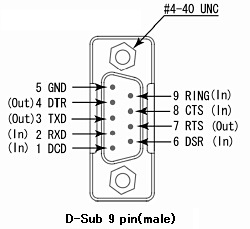 | Pin No | Name | Direction | Notes |
| --- | --- | --- | --- |
| 1 | DCD | IN | Data carrier detect |
| 2 | RXD | IN | Receive data |
| 3 | TXD | OUT | Transmit data |
| 4 | DTR | OUT | Data terminal ready |
| 5 | GND | - | Signal ground |
| 6 | DSR | IN | Data set ready |
| 7 | RTS | OUT | Request to send |
| 8 | CTS | IN | Clear to send |
| 9 | RI | IN | Ring indicator |
| CASE | FG | - | Connected to GND |
Package Contents
USB-013
USB cable 1.8m
Driver & Application CD
Documentation
Price and Optional Accessories
| Description | MODEL | Image | List Price (JPY) | Stock Status |
| --- | --- | --- | --- | --- |
| USB RS232C Converter Rev3 | USB-013 | | | |
| Attachment with clamping screw | PEN-003 | | | |
| Attachment for 35mm DIN rail | PEN-003-DIN | | | |
| Attachment with neodymium magnet | PEN-003-MG | | | |

---
[]