[USB-303] 2 Port USB Isolator HuMANDATA LTD.
[USB-303] 2 Port USB Isolator 
USB Isolator with two independent isolation
Improved reliability is protected from the noise
Permalink of this page:
Overview
USB-303 is a USB 2.0 Full Speed (12Mbps) and Low Speed (1.5Mbps) compliant USB hub which isolates between a USB host and two downstream ports with 3000VDC. Each of the two downstream ports are also isolated independently. With USB-303, it can be expected to eliminate ground loops that can cause measurement errors and equipment from surges, common-mode voltage, static discharge, magnetic fields, and radio frequency interference.There is no need to install any drivers. It works with every operating system such as Windows, Linux, Mac OS X.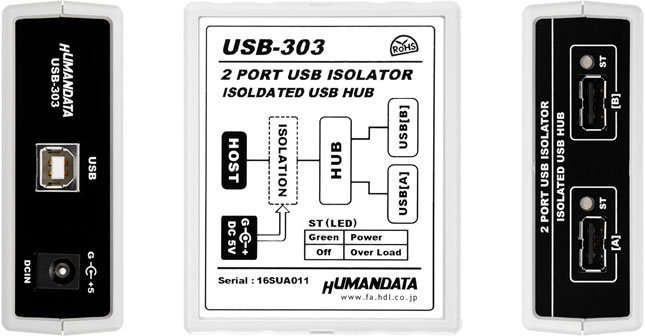 Features
Each two downstream port are independent isolation
USB host connector which is standard Type B female and have to be connected to a PC or other USB host device
Two USB target connectors which are standard Type A female and have to be connected to some USB peripheral devices
USB 2.0 Full Speed (12Mbps) and Low Speed (1.5Mbps) Speed compliant
OS-Independent (No drivers required)
USB-303 is powered through a USB port (Bus-powered) or an AC adapter (Self-powered)
DC-DC converter supply isolated voltage to a USB peripheral device from a USB host if no external power supply is present
3000VDC bus isolation

ESD and surge protection

Housing material: Plastic
DIN rail, magnet, and screw mountable (Attachment is required)
Includes a USB cable (1.8m)
Includes an AC adapter
Non-use of 6 Restricted substances of RoHS directive
MADE IN JAPAN
Specification
Item
Description
Remarks
Model
USB-303
Input Power
5VDC
Supplied through a USB port(Bus-powered) or AC adapter(Self-powered)
Recommend the use of an AC adapter for stably supply
An AC adapter supply to the host side.
Supplied Current to Target device
500mA/port max.
Support OS
OS-Independent (No drivers required)
HOST Interface
USB 2.0 Compliant
(Supports Full and Low Speed)
USB 1.1 compatible
Hi Speed is not supported.
ESD protection 
Port Number
2 port
ESD protection 
USB Connector
Host: Standard Type B Female
Target: Standard Type A Female ×2
Isolation Method
Bus Isolation (Independent isorated)
Isolation Protection
3000VDC
Designed value
LED
ST: Status LED ×2

Operating Ambient Temperature

-20 to 60℃ (-4 to 140 [°F])
No condensation permitted

Operating Ambient Humidity

30 to 85%RH
No condensation permitted

Storage Ambient Temperature

-20 to 60℃ (-4 to 140 [°F])
No condensation permitted
Storage

Ambient Humidity

30 to 85%RH
No condensation permitted
Noise Tolerance
Not defined
Transmission and other Standard
Not defined
Dimensions
69 x 82.5 x 30 [mm]
(2.638" x 3.248" x 1.181")
Without projections
Weight
Approx. 120 [g]
Only main body
Package Contents
USB-303
USB A-B cable 1.8m
AC Adapter
Documentation
Price and Optional Accessories
| Description | MODEL | Image | List Price (JPY) | Stock Status |
| --- | --- | --- | --- | --- |
| 2 port USB Isolator | USB-303 | | | |
| Attachment with clamping screw | PEN-003 | | | |
| Attachment for 35mm DIN rail | PEN-003-DIN | | | |
| Attachment with neodymium magnet | PEN-003-MG | | | |
Ordering

---
[]